ARCHIEF

2017
2016
2015
2014
2013
2012-2011
2010-2008
2007-2005
2004-2002
2001-1999
1998-1996
1995-1993
2016
TE GAST IN QUARTAIR

Modern Body Festival
Workshops in Quartair: 29-30 Nov & 1 Dec 2016
Exchanging Intimacies

Opening: Zaterdag 8 oktober 2016 om 18:00
Van 9 t/m 15 Oktober 2016
Opening: Zaterdag 8 oktober 2016 om 18:00
Special program:
13 oktober om 17:00 - Lecture by Czech curator and artist Radek Váńa on the art scene development in Prague in past years.
'Exchanging Intimacies' is a collaborative project that deals with communication among ten young artists from two different cultures. The result is two shows where five Dutch and five Czech artists meet in cultural exchange and create new means of communication within their generation. Artists with a variable use of media and focus of interest have an organic approach and freedom to creation of an exhibition. The show itself is about sharing and meeting in person with artists, public and foreign culture.
The project is a result of the urge for more human communication as nowadays most of social connections happen online. Online networks are very efficient in transferring information, but miss an important aspect of humanity. During one month the artists make two full shows in two different art platforms and countries to share with you what comes out of this exchange.
The shows take place first in Den Haag at Quartair, then Prague (CZ) at 1435mm / Nákladové Nádraží Žižkov (21.10-30.10.2016). The project aims to create solid ground based on real experiences for future cooperation between the art scene in Den Haag and Prague. To bring the art scene closer, one must know something about their history. Therefore the show is accompanied by two lectures focusing on the development of art scenes in both of the cities.

Cafe Mutnaby in Baghdad | fotograaf: Saad Jasim Al Zubaydi
Irakees Cultureel Festival | Bagdad-Out 2016
Vrijdag 30 september (Hoogtij)
Zaterdag 1 en zondag 2 oktober
Een driedaags festival, met Iraakse kunst, een tentoonstelling en een mini-symposium. Het programma bestaat uit: literaire voordrachten, korte lezingen, interviews en paneldiscussies, vertoning van films, theater en performance, muziek en beeldende kunst.
Georganiseerd door de groep 'Iraqi Artists in the Diaspora' (AICD) i.s.m. Atelier Veldwerk (Baghdad-out editie 2016) en Quartair Den Haag.
Opening: vrijdag 30 september (Hoogtij) 18.00 uur met een optreden van Suzan Khalid, een Iraakse fluitist uit Londen, en om 20.00 een speciale uitvoering voor dit festival van het theaterstuk 'Theatrical ramifications' van Rasol Alsakher door Salman Rahim.
Openingstijden: Vrijdag van 17.00 tot 23.00 (Hoogtij), en op zaterdag en zondag van 13.00 tot 17.00 uur.
Gratis entree


Tentoonstelling en doorlopend filmprogramma met werk van: Turki Abd Al Amir (NL) / Hedar Abbas Abadi (AU) / Wail Albadry (BE) / Najah Albostan (NL) / Alaa Aldabbagh (FI) / Kauther Alrawi (FI) / Oday Alubaydi (NL) / Alwan Al Alwan (AM) / Raad Alzobeidi(NL) / Imad Alzohiri (NL) / Samir Amir (NL) / Jean-Paul Begot (FR) / Salam Djaaz (NL) / Ehsan Al Emam (UK) /.Istinad Haddad (AU) / Riyadh Abdul Hussain(AU) / Salah Hassan (NL) / Saad Jasim (NL) / Suzan Khalid (UK) / Imad Mansour (FR) / Khazal Al Majidi (NL) / Bassim Mehdi (UK) / Parwin Mirza (NL) / Waleed R. Qaisi (QA) / Hussam Al Otaibi (SW) / Salman Rahim (IR) / Ahmed Sayon (NW) / Sudad Shalan (NL) / Udo Ulrich (DE) / Hanan Ajeel Zahroon (NL) / Sahil Alturk (NL) / Fadhel A Meseer (BE) / Nather Ibrahim Hassan (IRQ) / Mustafa Dzaey (IRQ) / Anaam Yehya (DE) / Mohammed Alzubaydi (IRQ) / Ramlah Jasim (NL) / Latif Aldabuo / Riyadh Arif Hakeem (IRQ) / Ameed Abbas Ameen (AM) / Assim Ferman (Jemen) / Ibtisam Naji (IRQ) / Rawdhah Shafeeq Mahdi (AM) / Talal Mahmood (IRQ) / Qasim Mohsin Hassan (IRQ) / Falah Ibrahim Flayyih (IRQ) / Kareema Hashim Mohammed (IRQ) / Lameeah Jasim Mohammed (IRQ) / Nadia Flaih Hassan (IRQ) / Saad Al Rubaye (IRQ) / Siham Mohammed Dhahir (IRQ) / Fathel Neema (NL)
Programma:
Vrijdag 30 september
17:00 Deuren open
18:00 Openingsperformance, muziek door fluitist Suzan Khalid (UK)
19:00 Poëzie, voordracht van gedichten van Istenad Haddad
20:00 Theaterstuk 'Ramifications' door Rasol Alsakher, acteur: Salman Rahim (Ierland)
21:00 Poëzie, voordrachten door dichters, o.a. Hussam Al Otaibi (Zweden)
22:00 Theater 'Ramifications'
23:00 Fluitist Suzan Khalid (UK)
Zaterdag 1 oktober
13:00 Deuren open
14:30 Lezing door professor Khazal Al Majidi (NL) over kunst en literatuur in de Sumerische beschaving
15:30 Ud-muziek, door luitspeler Ehsan Al Emam (UK)
16:00 Theater 'Ramifications'
Zondag 2 oktober
13:00 Deuren open
13:30 Poëzie, voordrachten door dichters, Khazal Al Majidi, Salah Hassan
14:00 'Baghdad-out 2016' Interview en debat: De huidige situatie in de kunsten van Irak worden besproken met de gasten aan tafel en via een live-verbinding met betrokkene in Irak. o.l.v. Onno Dirker, Atelier Veldwerk
16:30 Finissage met muziek van de muziekband o.l.v Samir Amir (NL)
Op 20 september start Innocent Drawing, een tweemaandelijkse informele tekensessie van (Haagse) kunstenaars ter ondersteuning van gewetensgevangenen en mensenrechtenactivisten. Aan de hand van cases van Amnesty International tekenen we 'onschuldige' groetenkaarten voor hen die onterecht gevangen zitten. De resultaten worden direct naar slachtoffers van mensenrechtenschendingen gestuurd en online gedeeld ten behoeve van urgente acties van Amnesty International.

Van 20:00 tot 22 uur (inloop 19.30u).
Kom langs en teken mee! Materiaal en drankjes staan klaar.
Vrij toegankelijk voor kunstenaars en belangstellenden.

Meld je aan via innocentdrawing@gmail.com.
Dan blijf je ook meteen op de hoogte van het laatste nieuws.
En volg InnocentDrawing op: Facebook / twitter
TE GAST BIJ QUARTAIR

Arab Camera Festival Weekend in Quartair
Vrijdag, 16 September - Zondag, 18 September 2016


The Blind's Band

In the early years of the reign of Hassan II, Houcine, fan of his new king, is the leader of a popular band. He lives with his wife Halima in her family home, a place of lively cohabitation, a gallery of colorful characters that cross the rhythm of life of the orchestra and its traditional dancers, the Chikhates. In this particular band, male musicians are forced to pretend to be blind in order to play in Moroccan conservative family homes at parties reserved for women. Houcine is also Mimou's happy father. Dreams and reality confuse, Mimou cannot concentrate at school and not to disappoint his father, he decides to cheat by falsifying his school exam marks.
Director: Mohamed Mouftakir
Morocco, 2014
Duration: 95 minutes
[English subtitles]

Gratis toegang

Vridag
20:15 uur Inloop
20:45 Introductie Arab Camera Festival door Rosh Abdelfatah
21:00-22:35 Film screening: The Blind's Band
Zaterdag 12:00 start groepswerk*
(resultaat is te zien tijdens Arab Camera Festival in Rotterdam)
Zondag 19:00 afsluiting groepswerk


www.arabfilmfestival.nl
www.facebook.com/arabcamerafestival
www.instagram.com/arabfilmfestivalrotterdam
Hoogtij, Vridag, 24 juni 2016
Doors open: 19:00
Performance Ji Kang: 21:00 --
New Dream New Future is part of the 2016 exchange project between Quartair and Schema Art Museum, in Cheongju, Korea. The project involves sixteen artists traveling across the world: eight departing from Korea to the Netherlands, in June, and eight artists, from the Netherlands going to Korea in July.
Korean art sector has grown exponentially to exhibit many artists at biennials and other contemporary international exhibitions. Cheongju's artists have recently gained recognition in Tokyo, Kyoto, Beijing, Seoul, supported by Schema Art Museum special exhibitions. Many of them have also been seen in Europe through the 'Nine Dragon Heads' projects. In fact, Schema Art Museum is making much effort to expand global performance, so 'New Dream, New Future' is an international program dedicated to promote Cheongju artists abroad. Schema Art Museum is curated by Kim Jai Kwan, artist, scholar, the director and founder of the Museum. During the nissage at Quartair (Friday, June 24th, Hoogtij) there will be a performance by Ji Youn Kang, Korean sound artist based in The Hague since 2006.
Met: Choi Ik-gyu, Heo Eun-young, Kim Jae-nam, Kim Ki-seong, Kim Seung-hwoe, Lee Gyu-sik, Moon Sang-wook, Shim Young-churl and Kim Jai-kwa
Opening: Vrijdag, 3 juni om 19.00 met de Ambassador Mr. Choe, Jong-hyun
Finissage: Vridag, 24 juni (Hoogtij) met performance door Ji Youn Kang
Openingstijden vrijdag, zaterdag en zondag, van 13.00 tot 17.00. Gratis entree
After completing the exhibition in The Hague, the project continued in Cheongju,South Korea, at the Schema Art Museum, July 5th to July 31st. The show The artists from The Hague who joined include: Harold de Bree, Wieteke Heldens, Erik-Jan Ligtvoet, Astrid Nobel, Jessy Rahman, Ludmila Rodrigues, Mike Rijnierse and Thom Vink.

Ji Kang Solo Live Electronics
Kang creates live sets based on the idea of combining three different elements: Acoustic, Digital, and Analog sound sources using instruments, objects, DIY analog synths and computer processing. This performance will include a traditional Korean gong as the main character of the set, and at the same time aided by audio feedback process. Its noisy element plays a strong role in embracing the other elements and creating musical flow.
Ji Youn Kang (Seoul, Korea) is a composer and sound artist based in The Hague, since 2006 and achieved her Master degree both in Sonology at The Royal Conservatorium, and in Composition at Conservatorium van Amsterdam. Her objectives and interests revolve around the creation of a musical language that (re)presents the Korean tradition and cultural elements using materials from Korean music as well as newly created sounds. Most of her music pieces have been composed based on the rites of Korean Shamanism, and many of them were written for the WFS system (192 loudspeakers), exploring the relationship between musical and physical spaces. At the same time she has been composing Live Electronic pieces for both traditional and non-traditional instruments, ranging from a solo instrument to a large orchestra, exploring mostly the primitive, empowering rhythmical elements and the noisy sound sources that the Korean ritual music involves. Visit: jiyounkang.com
TE GAST IN QUARTAIR

No Patent Pending #24
Zondag, 29 Mei 2016
Met Doron Sadja, Yoneda Lemma, Yolanda Uriz and Jeroen Uyttendaele
Doors open at 19:00, starts at 19:30
Entree: €5
Door iii in cooperation with Quartair
Program:
Jeroen Uyttendaele: Vonkveld, performative installation with electrical short circuits
Yolanda Uriz: Transitory Presences, AV performance with cymatic smoke patterns
Doron Sadja: We Are Never Ever Ever Getting Back Together, spatial composition deconstructing white light and white noise
Yoneda Lemma: digital sound compositions

Read more: iiinitiative.org
TE GAST IN QUARTAIR

No Patent Pending #22
Zondag, 10 April 2016
Met: BMB con., Patrizia Ruthensteiner, Dewi de Vree, Aurélie Lierman, Marianna Soroka en Jo Caimo
Doors open om 19:00, vostellingen vanaf 19:30
Entree: €5
No Patent Pending is a nomadic performance series presenting radical interdisciplinary practices that engage with sound, image, space and the body. Imagining new tools to articulate everyday phenomena, extending the body, remapping sense perceptions, hacking and reinventing existing media and codes, creating time and space for events which find their preferred storage medium in the memory of participants.
BMB con. known for their sometimes dangerously electrical performances will pull the plug and make a completely acoustic and candle-powered performance. Patrizia Ruthensteiner will perform her project Magnetoceptia, a collaboration with Dewi de Vree in which cargo cult like antenna costumes are used to explore the invisible electromagnetic fields surrounding the wearer's body. Aurélie Lierman will premiere a first étude for analogue electronics and talking drums: exploring the idea of the voice from a metaphorical point of view, together with percussionist Marianna Soroka. Jo Caimo will present the outcome of his residency with iii: will it be vuvuzelas made with colored straws or perhaps an organ that is played by the breath of the audience?
Read more: iiinitiative.org
Drawing Front (and back)

Tentoonstelling waarin de ontwikkeling van de tekenhand centraal staat
Opening: vrijdag 11 maart om 17:00
Open: 12 maart t/m 27 maart, vrijdag t/m zondag 13:00 - 17:00
Ook geopend tijdens Hoogtij #44 op 18 maart 19:00 - 23:00
Met werk van: Femke Bakker, Justin Bennett, Channa Boon, Ronald Cornelissen, Paul van der Eerden, Melissa Cruz Garcia, Sara Pape Garcia, Anne Forest, Johan Gustavsson, Wieteke Heldens, Michael Karr, Rens Krikhaar, Jorn van Leeuwen, Erik-Jan Ligtvoet, Marjolijn van der Meij, Astrid Nobel, Johan van Oord, Lieke Peeters, Nina Roos, Stefanie Scholte, Cybil Scott, Tanja Smit, Babette Wagenvoort, Wieske Wester enThom Vink.
Drawing Front is een landelijk offensief voor het hedendaagse tekenen, georganiseerd vanuit Drawing Centre Diepenheim. Zij hebben hiervoor samenwerking gezocht met kunstenaarsinitiatieven uit heel Nederland. Elke instelling geeft zijn eigen invulling aan een tentoonstelling waardoor er een enorme variëteit aan presentaties ontstaat. Drawing Front vindt plaats in de periode van februari t/m juni bij twintig kunstenaarsinitiatieven en Drawing Centre Diepenheim (meer informatie op www.drawingfront.nl).
Als één van de deelnemende kunstenaarsinitiatieven aan Drawing Front organiseert Quartair de tentoonstelling Drawing Front (and back) waarvoor 25 kunstenaars van verschillende leeftijden in hun verleden gegraven hebben. Ze tonen tekeningen uit de kinder-, jeugd of academietijd in combinatie met een recent werk. De kunstenaars hebben zelf een samenstelling gemaakt van twee tot vier tekeningen waarin de sprongen naar volwassenheid en kunstenaarschap zichtbaar zijn. Daarbij laten zij op zeer persoonlijke wijze de ontwikkeling van hun tekenhand zien en tonen dus ook tekeningen die nooit voor publiek of als kunst bedoeld zijn. Drawing Front (and back) biedt een veelvoud aan tekeningen in verschillende soorten en maten en toont het belang van tekenen, ook buiten de kunstvorm. In deze bonte karavaan aan onschuldige, ambitieuze, zoekende en trefzekere tekeningen wordt het tekenen gevierd als een activiteit die bij het leven hoort.
Met dank aan Stroom Den Haag
Tekening Quartair door Mika (2006), 9 jaar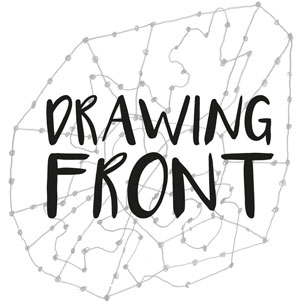 TE GAST IN QUARTAIR

SPRING NOT SUMMER is een groepstentonstelling van 3de jaars Beeldende Kunst studenten van de Koninklijke Academie van Beeldende Kunsten
(KABK), Den Haag.

Met Iris van der Graaf, Ai Hashimoto, Nina Markkula, Henriette von Münchhausen, Pris Roos, Gitte Svendsen, Freerk Wilbers and Boukje Ypma.
Gecureerd door MARIJKE APPELMAN
Opening: donderdag 18 Februari om 16:00 uur
TE GAST IN QUARTAIR

No Patent Pending #18

Zondag, 10 Januari 2016
Met: Jamie Allen, Will Schrimshaw, Toktek en Ingrid Lee
Doors open at 19:00, starts at 19:30
Entree: €5
Presented by iii in cooperation with Quartair
No Patent Pending is a nomadic performance series presenting radical interdisciplinary practices that engage with sound, image, space and the body. Imagining new tools to articulate everyday phenomena, extending the body, remapping sense perceptions, hacking and reinventing existing media and codes, creating time and space for events which find their preferred storage medium in the memory of participants.
Read more: iiinitiative.org